We can provide you with the tools and processes that you need to optimise stock holding , inventory tracking and control costs. Our stock control and retail pos system has been developed with ease of use in mind apart from having a good portfolio of functionalities.
A stock control system which can be used as a point of sale system integrated with a barcode scanner.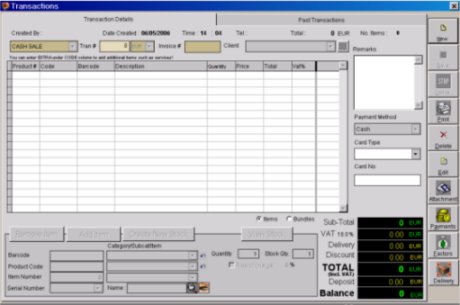 Each stock item is categorized into categories and sub-categories.You can keep detailed track of your stock including product names, codes, descriptions, categories, sub-categories, quantities, re-order levels, cost prices, currencies, whole sale prices, export retail prices, profit margins, etc etc.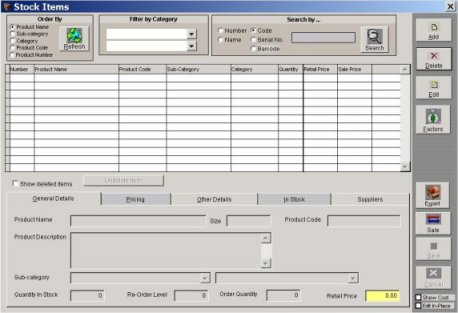 You can also store pictures of your product and much more.
The system has a client database where client information is kept.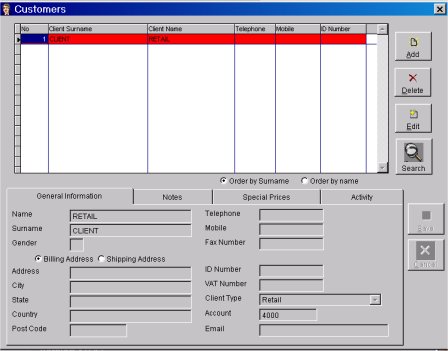 There is also a Supplier database containing all the necessarily information about your suppliers.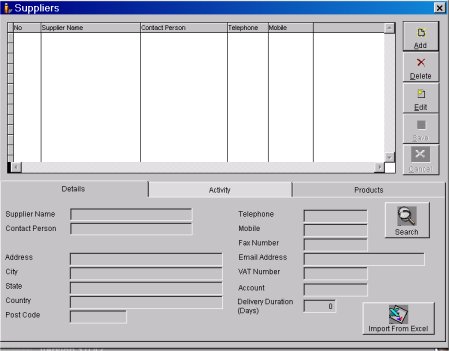 A unique feature of the stock control system is that you can build Bundles. A bundle is made up of other products. A bundle can has its own cost and profit margins.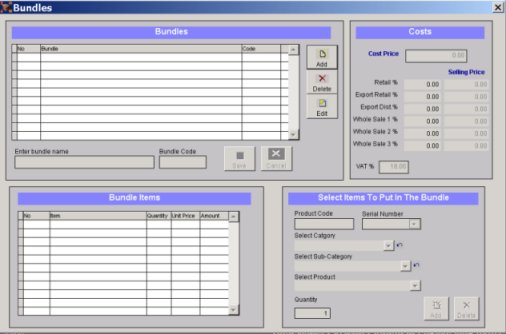 You can create bundles made up of more then one stock item, do a sale and have each stock item contained in the bundle updated.
Different types of transactions are supported including 1) Cash sales 2) Purchase transactions 3) Order transactions 4) Proformas 5) Credit notes etc.
You can even create your own transaction type and decide how the stock will be effected.
A transaction is created in few simple steps from within the same screen.
1) Select Transaction Type (Selling , Ordering or Purchasing )
2) Select the client or supplier. For a retail outlets there is a default client called "retail client", which is selected by default. Still you have the facility to record recurring clients (maybe for future discounts or points system).
3) Select individual products and/or bundles you want to sell or purchase.
4) At the end of the transaction you can give discounts, enter deposits , issue quotations and/or invoices, etc
At the end of the day you can issue x-readings and z-readings for the VAT department.
The system has a ad-hoc reporter by which you can get different matrices on your current sales. You can also export data to Excel spreadsheet for further analysis.
We are now providing an integrated accounting system built-in within the stock control system. You can have your stock levels being updated as soon as you do a sale and have the company general ledger sheet updated at the same time.
More information can be found on the user manual.
Hardware requirements
You can install the system on your home PC. You do not require any special hardware.

You may decide to purchase a more elegant touch screen monitor.

The system is completely compatible with touch screen devices.You do not need a keyboard or a mouse.You can carry out a sale transaction solely by using the touch screen.





We can provide you with a more professional solution.


KUBE T from
isis a touch screen with a compact and elegant design, suitable for Retail applications.

For more details please follow this link : http://www.custom.it/ing/pos/03-01.htm

You need a printer to issue your chits to your customers.

KUPE P from
is a very high speed thermal printer, up to 220mm/sec, quiet and with high performance.


For more details please follow this link : http://www.custom.it/ing/pos/18-02.htm






For sure you will need a barcode reader. We can help you choose the best one for your needs.

The system comes equipped with a barcode generation program. You do not have to worry on how to barcode your products, the system will handle it.

The system can accepts all types of barcode up to 16 characters. We can customize the way you want your labels to appear, the fonts, size ,etc.


If you need to print your own product barcodes you will need a barcode printer.

LOLA-LP2 from
is a thermal label printer with
peel-off system and internal power
supply.



For more details please follow this link : http://www.custom.it/ing/label/01-02.htm
These are some of the features provided in our Stock Control System. We can customize the system based on your individual needs. Feel free to contact us for a free demonstration of our system.
If you want to know more please download this quick tutorial.
You can also download a demo version on your computer by filling the following form.
Additional Plug-ins
Based on client requests we can also provide the following additional plug-ins

- Multiple companies : With jStock POS you can also have multiple companies and maintain seperate transactions. The stock is common for all companies. An alternative approach would be to install jStock POS in different folders
- E-commerce website (Shop) : An online shop which is integrated with jStock POS and which can be linked to a PayPal account
- PDA plug-in : For retailers we have a small application which can be installed on a PDA. This is used to take client orders , do stock taking and at the end of the day sync with jStock POS
- Intranet website : A website inside your Local Area Network which you can use to create sale transactions in real-time. The transactions are accessible from jStock POS in real-time.